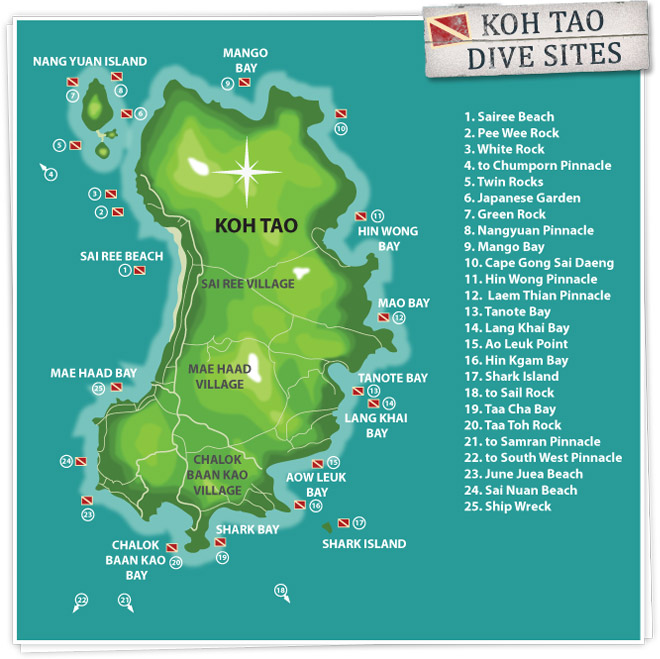 Let's dive!
If you are a diver, you must come to Koh Tao.
If you want to learn to dive, you must come to Koh Tao.
On Koh Tao you can dive on at least 30 excellent dive sites and many of them are ranked amongst the 50 best dive sites in the world.
For beginners as well as for experienced divers, Koh Tao is the ideal choice.
Chumphon Pinnacle
Situated around 11 km Northeast of Koh Tao, Chumphon Pinnacle is one of the most spectacular dive sites of the area. It boasts a big main pinnacle surrounded of smaller ones. Depths range from 15 to 35m.
You will find underwater plateaus rich in corals and anemones, a great variety of marine fauna and pelagic visitors. The great attraction of this dive site is the possibility of seeing a whale shark.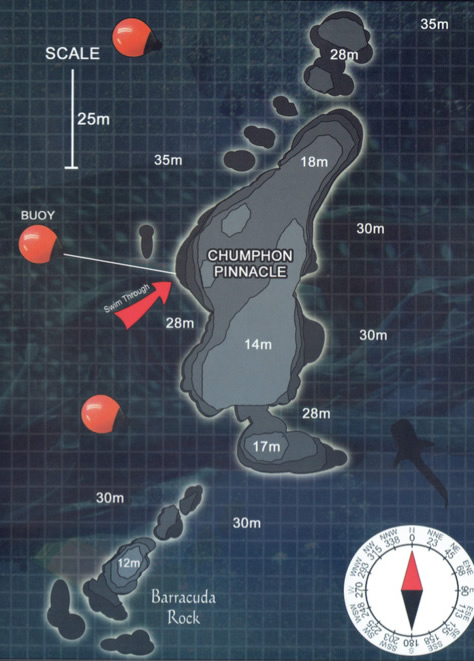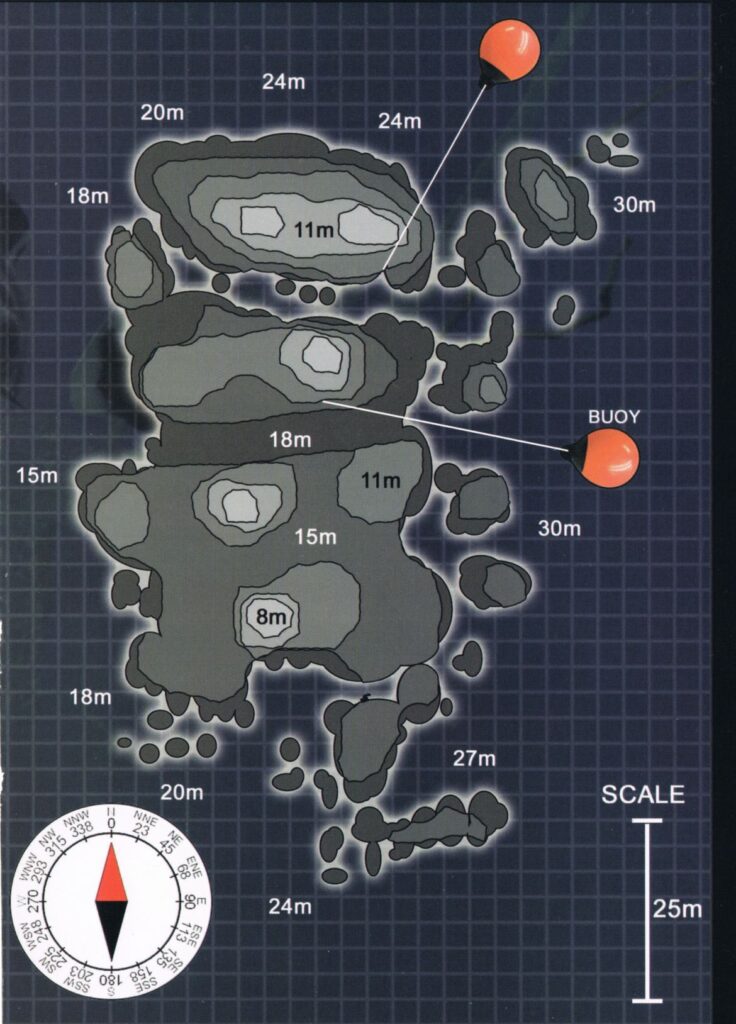 Hing Wong Pinnacle
You can find this dive site on the East coast of the island. The pinnacle's summit is at a depth of 10m, reaching 32m at the base. It has several granite rock formations covered with corals, where you will be able to see shrimpfish, groupers and a big diversity of other reef fish. One of the attractions of this dive site is the chance to see turtles.
Mango Bay
Situated on the north of the island is one of the preferred dive sites. The sandy bottom, the great visibility and spectacular shoals of fusiliers make it a perfect dive site for beginners.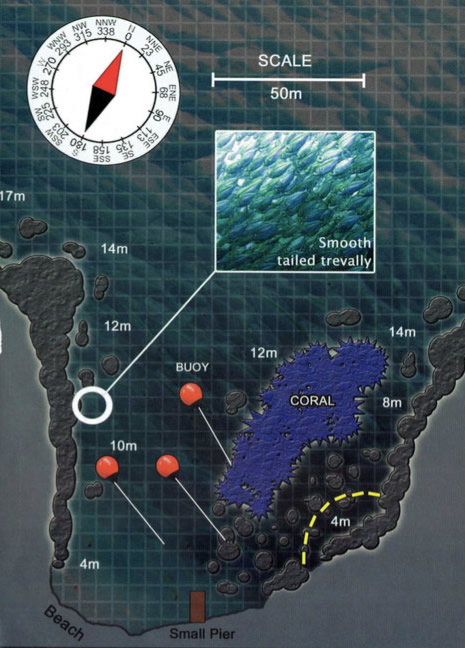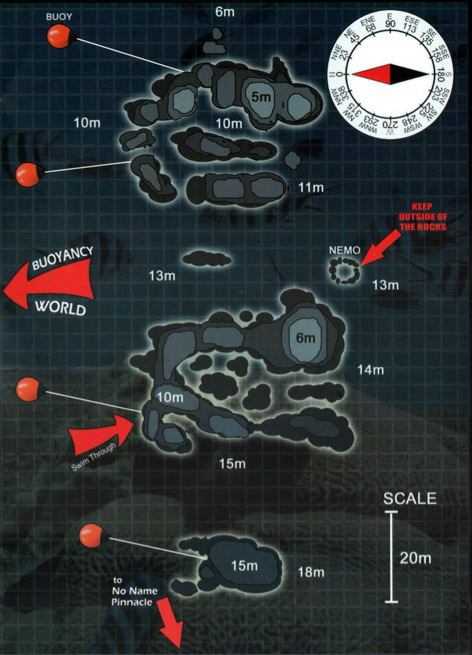 Twin Peaks
On the other side of Koh Nang Yuan is Twin Rocks or simply "Twins". It's an ideal place for beginners due to its depth and easy navigation. Three parallel pinnacles, teaming with marine life, a couple of clown fish will welcome you.
Japanese Garden
This dive site gets its name due to the likeness of the corals to the Japanese gardens. Situated East of Koh Nang Yuan, is one of the most photographed islands in Thailand, and has the best surroundings to learn how to dive due to its great visibility and depths ranging from 2 to 14m.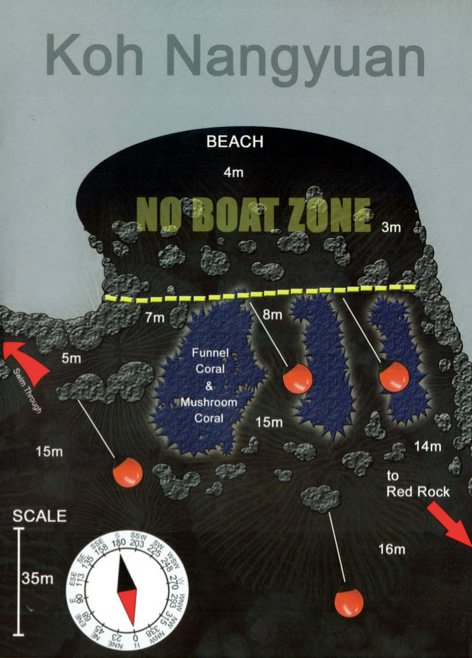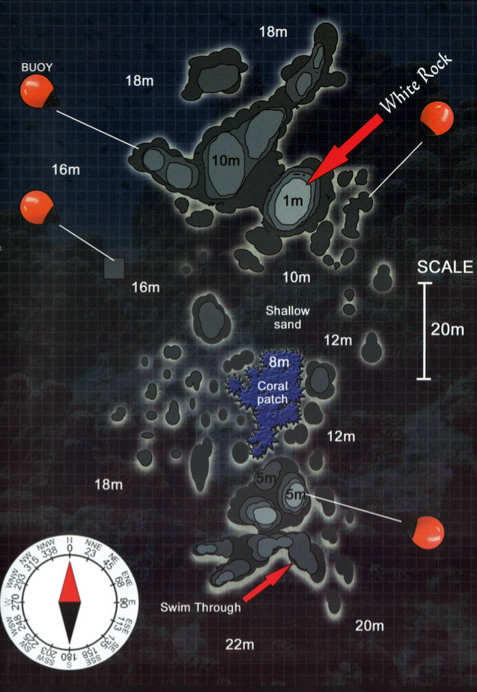 White Rock
Two big granite pinnacles form this dive site.You can find here a great diversity of coral, schools of butterfly fish, barracudas, angelfish, blue spotted rays, etc. It is considered as one for the dive sites containing the most marine diversity on this island.
Red Rock
This dive site is also known as Nang Yuan Pinnacle. A big rock stands out, which reaches 22 m in depth and gets as shallow 2 metres. It is situated around 50m away from the coral reef. Its main attractions are the small caves you can visit on that reef area.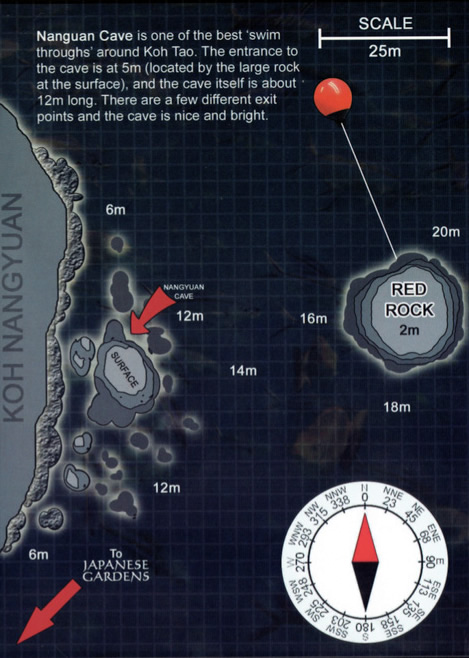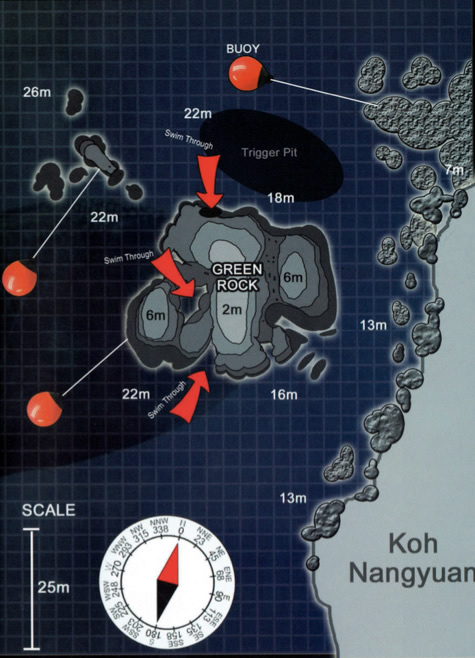 Green Rock
Very attractive due to is several corridors, caves and great marine life. Green Rock offers a few small swim-throughs, caves and shafts where marine life finds refuge. The rocks depths vary from 5m to around 32m. There is often a strong current so it is not recommended for beginner divers. You will probably find Yellow Margin Triggerfish and Titan Triggerfish, so be careful when approaching.
South West Pinnacle
Has seven granite pinnacles with depths ranging between 5 and 30m and placed around 12 km from the Southwest corner of Koh Tao. Is one of the best dive sites on the island. The shallow areas of the pinnacles are covered by anemones and coral. You can see big groupers and barracudas virtually on each dive.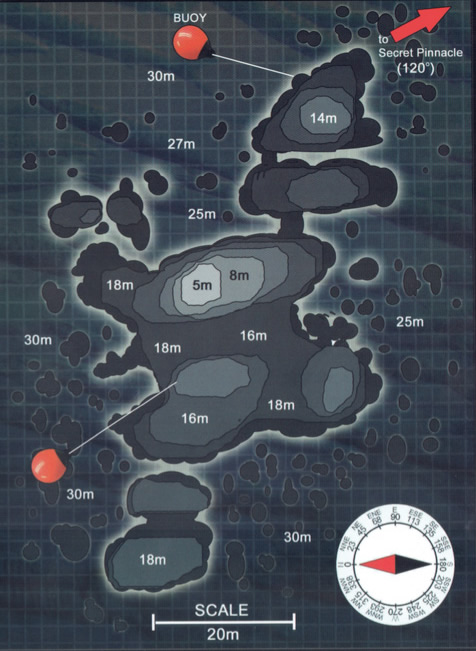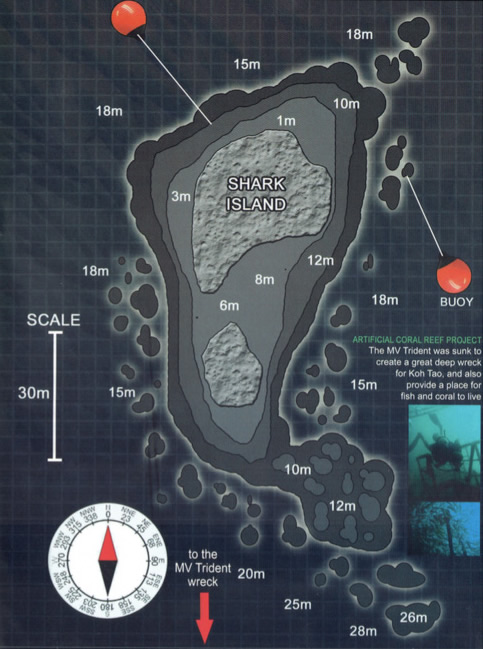 Shark Island
It got its name due to its resemblance with a dorsal fin and it's a formation rock South East of Koh Tao. Each side of the little island boasts different marine life, so it isalmost like diving in two places at once!
On the East side you will find a myriad of soft corals, hard corals and sponges, while the West side offers hard coral formations home to moray eels, nudibranchs, rays and leopard sharks. Trigger Fish can become very aggressive here, so always be cautious.
HTMS Sattakut
Some years ago the Thai government, as well as the port authorities, decided to sink this legendary American frigate, which served in World War II and the Vietnam War.
The ship is 49m long, 7m wide and it is practically intact so you can visit its whole length with depths ranging from 22m down to 30m. it is ideal for deep dives and, of course, for taking the Wreck Specialty Course. It is situated South East of Hin Pee Wee and so close that you can combine both dives into one.